HOW TO KIT
by Indoor Water Designs
Custom build your own indoor waterfall and Pond!!
Indoor Water Designs is offering you an easy way to get this 6' tall beautiful waterfalls and ponds at a fraction of the cost. Surface is real to the look and touch. No it's not fiberglass, plastic, cement or foam. The surface is a unique combination of stucco and other easy to apply materials developed by Indoor Water Designs. Due to our techniques, the sound is as though it were flowing across solid rock. A fiberglass or plastic surface causes an echo, and distorts the natural sound of water. Click here to see some close-up of the surface. All materials are listed (including item numbers) and can be bought at Lowe's®. Fax a copy to Lowe's® home improvement store and they'll deliver it to your house. A help line is offered for any questions you may have.
Demonstration video
Demonstration video & audio quality is poor compared to purchased copy.
It's easy, it's fun, it's impressive.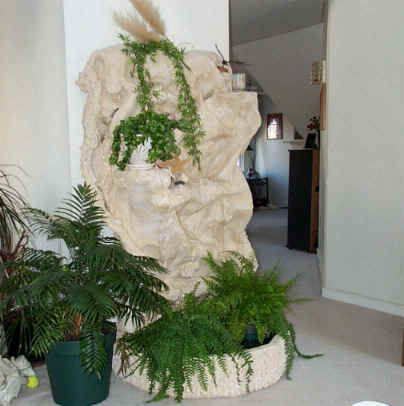 Now you can watch and listen to this step by step instruction presentation on your computer. Over 150 up close photos.
Enjoy setting by your pond anytime you want, summer or winter. Keep goldfish, a variety of tetras or even a turtle in your pond.
Download files Includes: Viewable media for your computer, plus a printable copy of material List, text with pictures, and text without pictures.
Get started now by Downloading your How To Kit files. Plus save on Shipping & Handling and more!!! Only $14.95 $6.95
E-checks are also accepted
Copyright © 2000-2007 Indoor Water Designs All Rights Reserved