Indoor Waterfalls and Ponds
byIndoor Water Designs
Waterfall-Pond-Combo Estimate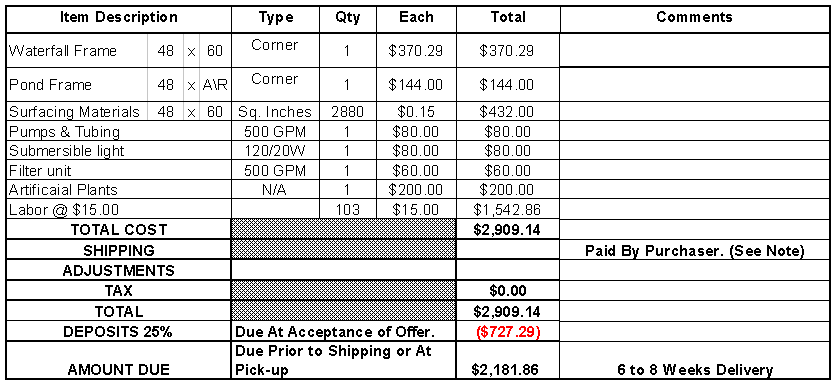 Notes:
Shipping cost varies depending on total weight of finished unit and shipping area.
Shipping cost approximately $250.00 +/- (To Be Paid By Purchaser)
Due to new insurance policies, anything shipped with a value of more than $1000.00 require to be crated. Crating estimate by shipping company, $298.00
Limited Warranty Description:
Full refund for first 30 days minus shipping and deposit. Repairs including repainting, punctures or leaks are free for the first 2 years when customer covers shipping cost. Complete repair & maintenance instructions included.
How to Kits – Although our prices are much lower than our competition, many people are not aware of the cost of building and shipping a waterfall and pond. Our how to kit will instruct you on building your own waterfall and pond at home. We offer an instruction CD with audio and video and a material list., The material list includes item number that can be purchased at Lowes® home improvement store. Visit www.howtokits.com to get your kit.
INDOOR WATER DESIGNS
P.O. BOX 2368
CHESTER, VIRGINIA
Hi,
Thank you for your interest in our waterfalls and ponds. Attached is your general estimate. Please email if the estimate is acceptable or if you need any changes made to the size, color etc. A more detailed estimate can be provided upon purchase request. Due to the attention and craftsmanship required for each waterfall and pond made, we will need to schedule a start date.
If you feel that our price is more than your budget can handle, please consider another alternative. Our waterfalls and ponds are hand crafted. With our trade secrets and an audio video instruction, you could supply the hand craftsmanship. Over the years of building these units we have put together a step-by-step presentation on building these unit that anyone can follow. We have a help email to answer any questions that may come up. We teach you how to build any size waterfall and pond you need. All materials are listed with item number (Lowe's® home improvement) to make it even simpler. We put this how to kit together because we felt like we were losing a lot of business due to high labor cost and shipping cost. It's really a lot of fun building these waterfalls and ponds. Our instructional files can be downloaded for $14.95 and you can get started building your unit today. Or if you prefer a CD ROM is only $19.95 plus $5.00 shipping and handling. Visit www.howtokit.com and get that waterfall and pond at a fraction of the cost.
Thank You,
Indoor Water Designs
Copyright © 2000-2006 Indoor Water Designs All Rights Reserved